Mission
The Bridge that Connects Global Investors to Asia
As deal originators, we bring to investors investment opportunities that focus on long-term, stable returns, in areas related to infrastructure, such as toll-roads, renewable energy, sustainable development.
Backed by Strong Heritage
Our journey began in 2019 as a spin-off from a fiduciary group established in the early 2000s, managing the portfolio of family offices, private and corporate trusts of European and Asian principal investors.
In June 2020, we received our license to operate as an independent Registered Fund Management Company (RFMC) regulated by the Monetary Authority of Singapore (MAS).
Depth and Breadth of Experience
We are a group of experienced investment bankers, corporate financiers, restructuring specialists, technical advisors and industry consultants, led by CEO Azrin Asmani and Executive Director Vicky Ti – our RFMC license-holders.
We are skilled in connecting capital to projects in Asia including those that have been overlooked by global investors due to many reasons, both quantifiable and non-quantifiable.
Our 3-Pronged Approach
To bridge global investors to Asia, we adopt a 3-pronged approach: (a) an integrated capital solutioning strategy; (b) consulting & advisory and principal investing that extracts, enhances and optimizes the value of the target asset; and (c) an exit strategy through global investors / IPO.
Part of OUR MISSION
View
Navigating the world, in our view, is becoming far more complex and uncertain, intensified by the trade tension between the U.S. and China, the American protectionist agenda, and the Chinese making their global presence felt through their OBOR initiative. Information is democratised through social media and digitalisation. The world is divided and views are fragmented.
While Asia continues to be the destination of choice for investors, reflected by the growing FDI into the region, piloting a path can be tricky. Economies such as the Philippines, Indonesia, Vietnam and Sri Lanka are facing a conundrum – choose the wrong side, face the undesired consequences.
Our role is to decipher these regional nuances for our investors – what is the unspoken need, that subtle desire – to enable us to extract the risk-return premium for investing in Asia. We see ourselves as the bridge that connects global investors to Asia.
The bridge that connects global investors to asia: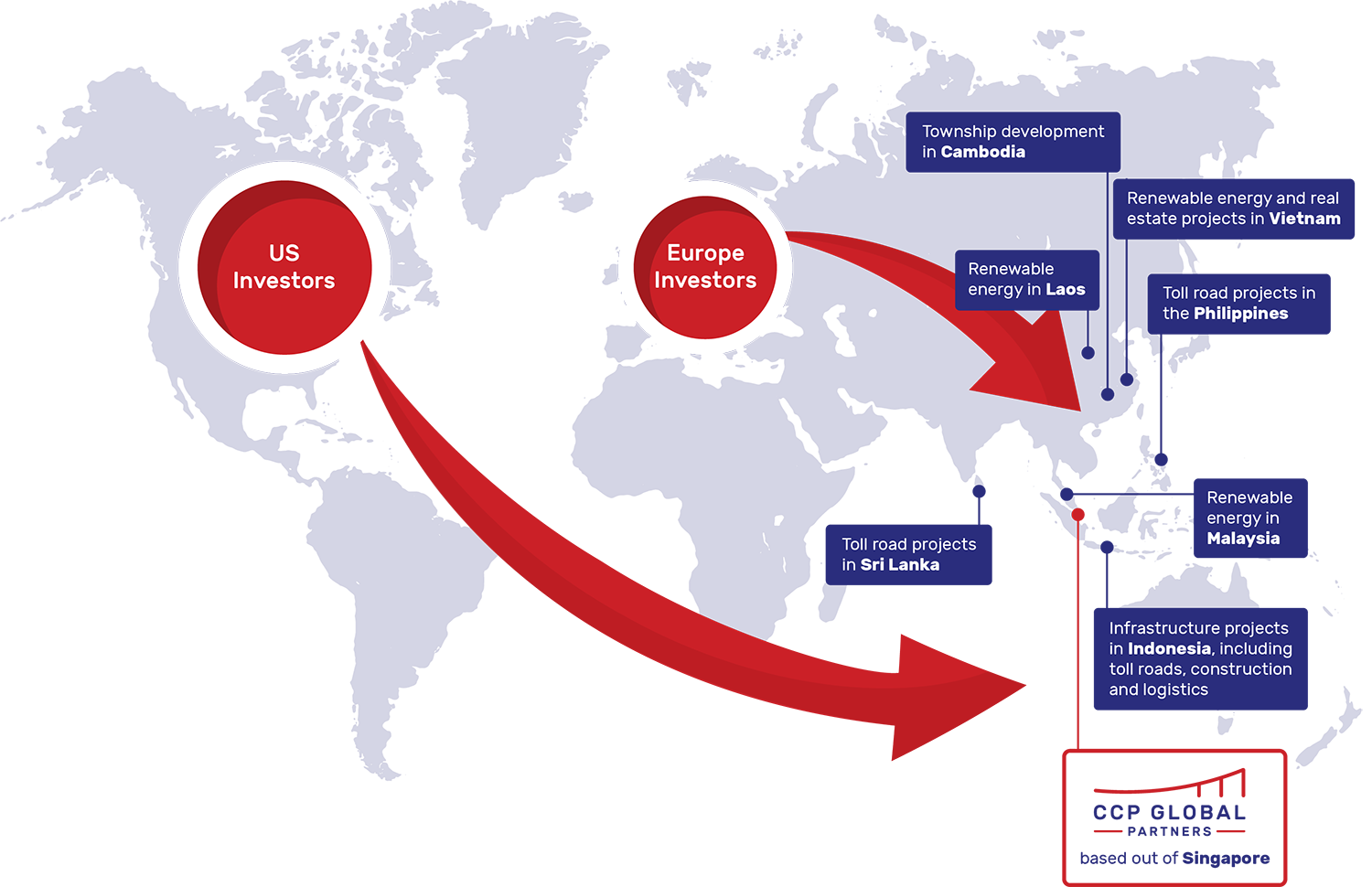 Focus
CCP have incorporated two Variable Capital Companies:
ASL Series 1 Asia Impact Fund VCC – focuses on Clean Energy, Agribusiness, Landmark/Real Estate and other areas which promote sustainable growth in Asia.
ASL Series 2 Connectivity Fund VCC – focuses on infrastructure-related assets, including Ports, Airports, Toll Roads, Logistics, Warehousing and Supply Chain Management.
People
Azrin Asmani, CEO

Azrin, crossing 50, is an experienced professional with a demonstrated history of working in the banking industry, with DBS, HSBC and ANZ. His professional skills, honed over the last 22 years, covered areas from Risk & Control Governance to Investment Banking, structuring and syndicating capital market and investment products to global investors.
He has held multiple leadership roles, including managing a team of 25 treasury and investment advisors, constantly driving sales above the USD1B target and maintaining fee margin above the 1% spread.
From 2013-2018, Azrin was the deputy to DBS Group COO, with responsibilities related to strategic planning, risk & control governance, regulatory reporting and engagement.
Other leadership roles: Head of Investment Advisory at ANZ, Head of Wealth Management Advisory at HSBC, and Head of Investment Advisors at DBS. He began his banking career as a DBS product manager, developing multi-asset class structured notes, mutual funds, private equity investment funds, and syndicating equity and bond IPOs.
Azrin is also acknowledged as a grassroots activist, having served in one of the ruling party's electoral wards since 2011 as a PAP Grassroots leader, and an eloquent public speaker, especially on topics related to capital markets and risk & control governance.
As well, he is known for his flair in writing, having spent the earlier part of his career as an award-winning financial writer, investment columnist / journalist in mass media, such as CNBC Asia Pacific and The Straits Times.
Azrin is the former classmate of one of the current Ministers in the Singapore Government and the nephew of one of the former Ministers in LKY's cabinet.
Vicky Ti, Executive Director
Vicky is the Executive Director of CCP Global Partners. She has more than 10 years of experience in advising on corporate finance transactions, including fundraising, mergers and acquisitions and restructurings. She is technically skilled in constructing comprehensive financial models and carrying out analysis and valuations, including scenario analysis, cash flow sensitivity, assessment of balance sheet and capitalization.
She is very familiar with the toll road industry, having completed two acquisitions of and subsequent fundraising for toll road projects in the Philippines, the successful restructuring, refinancing and recapitalization of a Philippine toll road project and debt restructuring of an Indonesian infrastructure company.
From 2011-2018, she was a senior consultant at AB Capital Management, the advisory arm of a regional infrastructure group. From 2004-2010, she was at corporate finance boutique John Moore Associates.
Investment Advisory Committee

D. Jooris

Mr. Jooris has more than 25 years of banking experience spanning New York, London, Tokyo, Hong Kong and Singapore. In his most recent role as the Head of Wealth Solutions for Asia-Pacific at Deutsche Bank, he looked after HNWIs across Asia, developing solutions for their financing and tax-related needs at a corporate level and furthering his experience with regional clients and their family-run businesses. Prior to that role, he was the CEO of Bank Pictet & Cie (Asia) Ltd from 2016 to 2021. Mr. Jooris has also held several prominent positions at Goldman Sachs since 2005, including Managing Director and Head of Credit Capital Markets for Asia. He holds a degree in Business Engineering from the Solvay Business School (Belgium) and is a guest lecturer at the Wealth Management Institute (Singapore) and Middlebury College (United States). He is fluent in English, French, Portuguese, Dutch, German, Spanish and Italian.
E. Park

Founder of Parallax Capital Management Pte Ltd., Mr. Park presently is the Chief Executive Officer & Executive Director at SGX-listed Gallant Venture Ltd. He is also on the board of 7 other companies. He has also spent more than 15 years as an investment banker with Credit Suisse First Boston in London, Chase Manhattan Asia Ltd in Hong Kong and Banque Paribas in Singapore. He received his Bachelor's Degree from Princeton University (U.S.A.) and an MBA from INSEAD (France).
A. Larasati (Observer)

Ms. Larasati, based in Singapore, is the founder of an investment holding company, focused primarily in real estate, including office buildings, shops and houses, spanning Indonesia, Singapore and the Philippines. Besides real estate investments, she is also engaged in advisory services in areas such as marketing and promotion for co-investments, project development related to property and realty, and assisting other investors in their assets and investments in Indonesia.
Whitlam Luhur – Consultant, Strategic Relations
Whitlam is a businessman with a wide network of contacts in the government. He is the co-founder of LB Resources, an Indonesian company holding 9 coal concessions located in East Kalimantan and Papua. Whitlam is also the co-founder of LB Apps, a software consulting company, and LB Foods, a F&B company. He obtained his MBA from Boston University.
Raya Tambunan – Investor Relations & Administrative Services
Holding a Bachelor's Degree in Business Administration from San Diego State University, Raya combines strong communication and administrative skills with her experience in various industries, including coal and toll road investments. She has been working with toll road companies since 2011 in Indonesia and the Philippines.

Victor Luhur – Consultant, Strategic Relations
Similar to his brother Whitlam, Victor is strong in lobbying and advocacy in Indonesia, with a good network of contacts. He is the co-founder of LB Resources, LB Apps and LB Foods. He holds an MBA from Boston University.
Alfian Noor – Technical & Financial
Alfian brings a wealth of experience in toll road management, fund management and private equity, spanning almost 30 years. He was President Director of a major toll road in Surabaya, Indonesia, and specialised in managing and restructuring assets for a private equity fund. He holds an MBA from the Asian Institute of Management, Philippines.
Ori Setianto – Legal
Ori has over 23 years of experience in legal, financial and management roles in both law firms and toll road companies. He holds a Master of Law from University of Indonesia and is well-connected in the local markets.
Arno Mantel – Managing Director of EU Projects

Arno is based in Amsterdam, Netherlands. He specialises in international tax planning structures, acquisitions related to Dutch companies and managing and stimulating a group of people within a broader banking or financial environment.

Jan Catsburg – Managing Director of EU Projects

Jan is an experienced managing director with a demonstrated history of working in the financial services industry. He is skilled in Managerial Finance, Accounting, Interim Management, Internal Controls, and International Financial Reporting Standards (IFRS).

Cedric Kramer – Investor Relations & Administrative Services

Cedric is currently pursuing Commercial Economics at the University in the city of Leiden in the Netherlands. He brings the millennial perspective to the company. Cedric provides administrative support and investor relations.

Contact
CCP Global Partners
205 Henderson Road,
#06-02, Singapore 159549
10 Collyer Quay, #10-01,
Ocean Financial Centre,
Singapore 049315
Telephone: +65 6275 7855
Email: info@ccpglobalpartners.com